Equipment
Our rooms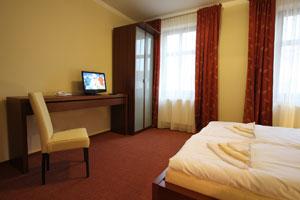 Our guest house offers 11 rooms:
8 double rooms, for one person offered for the price of a single room
2 four-bed rooms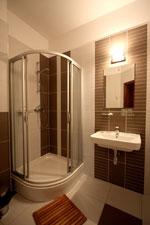 All rooms are equipped with LCD TV (satellite channels are tuned in all rooms), internet (free WiFi), chairs, cabinets, table and bed. The quadruple rooms have a small refrigerator. Dimension of mattress for 2 persons (180×200). The bathroom is in the room with a toilet, shower and bath sheets and towels made from 100% cotton. Mains voltage 230 V, 50 Hz.
You will appreciate the spectacular views of the surroundings.
Breakfast is served in the pleasant atmosphere of the hotel dining room (buffet lined plates). Breakfast is included in the price for accommodation.
Guests can take advantage of its own private parking.